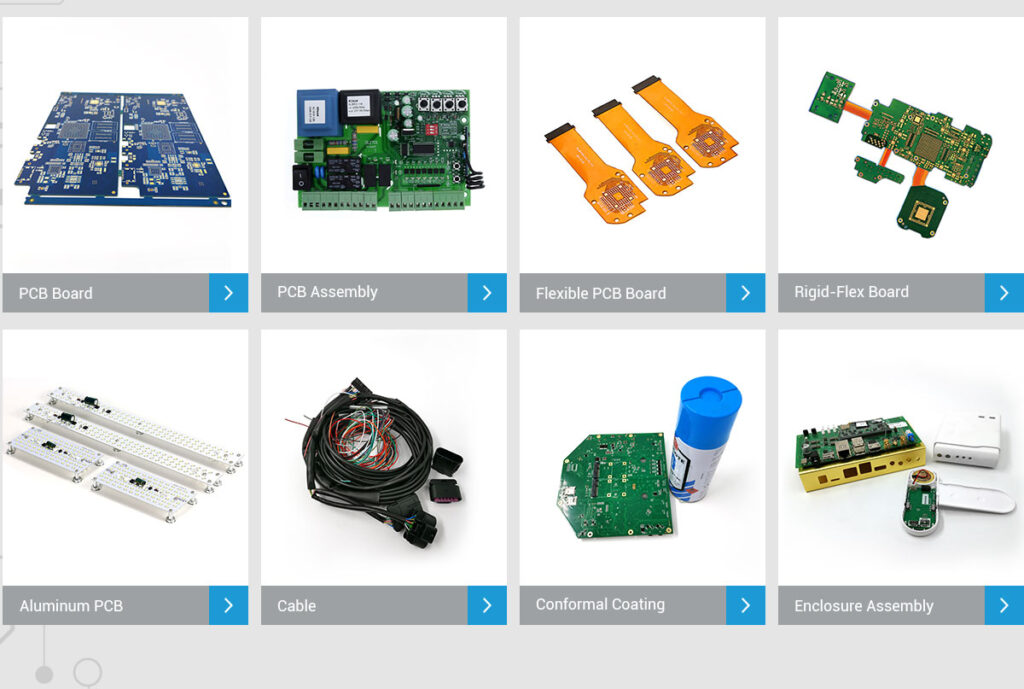 What is the standard?
A technical standard is a document based on science, high-speed technology, and experience, approved by a national or internationally recognized body, which establishes characteristics, requirements, or specifications to achieve a product, process, or service optimal. Different recognized bodies certify that products, services, or operations follow or comply with international standards (IPC standards).
Introduction and Scope of Standard Printed Circuit Boards:
Aluminum is the most common metal used for metal printed circuit boards. Standard PCB is a non-metal PCB layout, which means they are made of materials such as FR4, fiberglass, ceramic, polymer, and so on. To induce conduction in the electronic products, these PCB have layers of copper as a top layer like flex PCBs, silkscreen, or a soldered mask. These printed circuit boards may be single- or double-sided depending upon the application requirement and IPC standard. Europe PCB is a standard printed circuit boards manufacturer that offers end-to-end solutions from ideation and design to assembling, installation, and maintenance. We have experience since 2006 in PCB fabrication and have handled thousands of PCB layout projects so far. Europe PCB uses all kinds of substrate materials including FR4, aluminum, and Rogers for printed boards. We typically use FR4 for all our standard printed circuit boards. We have been constantly meeting compressed deadlines and time-to-market schedules, which has helped us achieve the distinction of being one of the leading standard PCB and electronic assemblies manufacturers in China. When you are ready to transition a design from the prototype phase to the production phase, our standard PCB could be the solution without additional cost on electronic assemblies.
Importance of Standard PCB:
PCB has been integral to the advancements in electronics and their increased applications. There are various types of PCB considered by a PCB fabrication service provider. Standard and RoHS compliant can be the two broad categories here. RoHS-compliant PCB is made to suit specific standards and is free of toxic materials such as lead. PCBs may be made of different materials ranging from aluminum and fiberglass to epoxies. They are designed to suit most standard requirements across applications. But, precisely when we say standard PCBs, what matters is the thickness of the board among other factors, which is about 1.57mm. Of course, nowadays, the thickness has reduced with the ever-shrinking size of electronic devices. So, for standard PCBs, we can consider a range from 0.78mm to 2.36mm thickness. This post takes a look at standard PCBs and electronic assemblies with layers varying from one to eight, their design, and applications( IPC standard).
Why Thickness is an Important Parameter?
The thickness of a PCB layout directly affects its functioning, which may impact the overall operation of the device it is embedded in. It is a parameter that impacts resistance and conductivity which are important aspects you should consider when mapping your application requirements. When we talk about thickness, it means the overall board thickness, and that of the substrate, core, and each layer. In the case of multilayer PCBs, the thickness has to be mapped with the components and wires running through, and avoid controlled impedance to produce PCBs and electronic assemblies.
What Are PCB Design Standards?
When you're tasked with working on a PCB layout, questions can pop up one after another. Should you increase the via size by a couple of millimeters? Is the clearance between the power and signal traces sufficient? What are the best practices for thermal management? Left unanswered, you'll end up with a PCB that isn't optimized to perform safely or reliably ( IPC standard). To produce a PCB layout that meets industrial requirements, you'll need to refer to existing PCB design standards. PCB design standards are guidelines that are laid out by a reputable and renowned industrial organization. As far as PCB design standards are concerned, the industrial organization of interest is the IPC. Launched in 1957 as the Institute of PCB, the organization has actively established various standards that relate to PCB layout and manufacturing. Let's look at some of the common standards and what they can offer you in your designs as helpful resources.
Advantages of Using
Standard PCBs Made by Europe PCB:
Here are some advantages of buying generic standard printed boards from us:
We offer end-to-end services from design to assembling and installation, and we also accept your designs after our review for customer satisfaction.
We are flexible and offer cost-effective yet qualitative solutions for your applications.
We can manufacture up to 10 million pieces of high-quality PCB or printed circuit board with tight tolerance at competitive prices.
You need not place a bulk order instantly, we can offer you initial prototypes, and after testing these, you can place the final order.
Based on your requirement, we can give you a free instant quote so you'll know what to expect and can plan accordingly.
Quality Inspection
Techniques Used at Europe PCB:
We are extremely focused on quality and strive for a flawless design and functionality of our PCB printed circuit board. We carry testing and inspection of our PCB thoroughly at IPC standard before they are sent out to our clients. Here are the inspection techniques we use in the manufacturing process:
Electrical-Test (E-Test)
Sample-lot inspection
Automated Optical Inspection (AOI)
Applications of Standard PCBs
We regularly design integrated circuits and deliver standard PCBs printed circuit board for the following applications:
Industrial equipment
Consumer electronics
Safety and security equipment
Medical devices
Computer applications
Automotive applications
Aerospace applications
More on Standard
PCBs with Layers Ranging from 1 to 8
When manufacturing PCB with any number of layers in-circuit board, we need to consider electrical properties and the following parameters apart from PCB circuit boards thickness:
Number of layers
Maximum board size
Spacing or minimum track width
Copper thickness
Vias
Lowest drill size
Aside from the above factors, the manufacturing tools used and the workmanship also impacts the PCB circuit boards thickness and conductor spacing. This includes the hole drilling equipment used and copper thickness among others. A stack-up is the arrangement of copper coating and other insulating layers on the board before the layout is designed. For standard PCB of multiple layers, the stack-up thickness is around 2.4mm", although it may vary from 2.3mm to 2.5mm. For a 2-layer stack-up, the final board thickness is around 1.6mm.
When Can You Use Standard PCB Board?
PCB Design That Has Been Used or Optimized Before:
If you're working in the electronics industries, on a project with the PCB design you've used or optimized, standard PCB is a good choice as there's no worry about design flaws. When it comes to standard PCB manufacturing, EuropePCB can help you move toward mass production, there's no need to invest lots of money on PCB prototypes, time is saved and you can put it in your application directly, tolerance is under more strict control and high-speed products are well-tested project before shipping to you.
Why It Is Important to Comply with PCB Design Standards
Here are some of the foundational knowledge includes guidelines for:
Better Manufacturability
Every decision that you make on a PCB ( electronic enclosures) layout will affect its manufacturability. For example, the IPC-2221 specifies requirements for surface mount components. It indicates the difficulties in assembly if you've chosen components that are below a certain size. These are all important considerations for good design during the manufacturing process.
More Reliable Performance
Whether it's crosstalk, overheating, or other issues, adhering to the guidelines in these PCB design standards helps to reduce the aforementioned issues in your final product. Your PCB design quality will directly impact your company's reputation, sales, and overall profitability of surface mount devices. Besides, nothing brings greater satisfaction for designers than delivering durable and stable designs.
Streamlined Production Process
It's important to get every stakeholder in the multilayer boards or PCB production process on the same page and complying with PCB design standards is the key to achieving that. With the entire production based on approved industry standards, there is less possibility of mistakes, and thus, fewer unnecessary expenses.
The Advantages of Standard PCB
From EuropePCB:
EroupePCB always convinces others with honesty and capacity, as a top 5 turnkey PCB manufacturers, we rest our customers assured with the quality, expert, competitive price range, wire harness assemblies, and good after-sales service processes of industry standards.
PCB Quality:
1. ISO 9001: 2015, IPC, and UL (PCB factory: E501497 94V-0; PCB assembly factory: E499341) IPC standards.
2. Bare plate 100% visual inspection and mechanical AQL on IPC-600 class II or class III
3. 100% testing before shipping PCB Manufacturing Expert & Capacities:
1. 70 experienced engineers for the R&D team and 45 overseas sales for the business team.
2. 5 SMT Lines (10 million chips per day)
3. 3 Production Lines (1.2 million pcs per day)
Competitive PCB Price:
1. Optimized solution to be offered as per your requirements.
2. Accountable material and components sourcing supplier with reasonable price
Whole industry chain Good After-sale Service:
1. One-to-one timely customer order status feedback processes
2. ERP Systematic order process online tracking
As you know, it is cheaper than other laminated PCBs and is fire-resistant. Therefore, these fiberglass epoxy laminated sheets are in great demand in PCB assembly. At EuropePCB, we use high-quality materials with optimum skilled manufacturing.
Therefore, we can make sure to present the best standard Printed Circuit Boards for you. We manufacture and deliver thousands of PCBs. Take a look at our comprehensive list of products and services here with acceptability requirements. That's why EuropePCB is the top choice of multiple people over the globe for years.